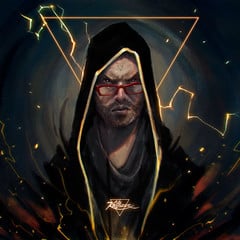 Kaithzer Morejón
2D Artist - Open for work --- KAITHZER@HOTMAIL.ES
Quito, Ecuador
Summary
Kaithzer Morejón, Concept Artist & Illustrator.
Background in graphic design and traditional art
Objective:
To work on fun and challenging projects with a team oriented on personal and group growth. Willing to share my passion for art and games with my team.
Education:
UDLA (2005-2008) – Degree of Bachelor 2D and 3D animation.
Profile:
Extremely passionate about art.
Love for electronic games.
Self motivated.
Able to work under detailed art direction, and also capable of working with minimal supervision independently.
Willing to participate in collaborative environment.
Able to adapt to a workflow, as well as offer feedback.
Enjoy tough challenges & and growth.
Live long and prosper
Skills
Concept Art
Digital Painting
Environment Design
Illustration
Storyboarding
Character Design
Costume Design
Sketching
Traditional Art
Book Cover Illustration
Software proficiency
Experience
Art Director at Xapien

Quito, Ecuador

Senior Designer at Publicis

Quito, Ecuador

February 2015 - March 2016

Illustration for Social Media and Marketing pieces.

Clients: Movistar Ec, Nestle Ec

Concept Artist at Amerisis

Quito, Ecuador

Character Designer and Illustrator

Art Director at Fundación Dibuja Una Sonrisa

Quito, Ecuador

November 2010 - August 2014

Marketing and Comunication Director - Also worked as comic artist for a fundraiser project.

Junior 2D Artist at Blue Lizard Games

Quito, Ecuador